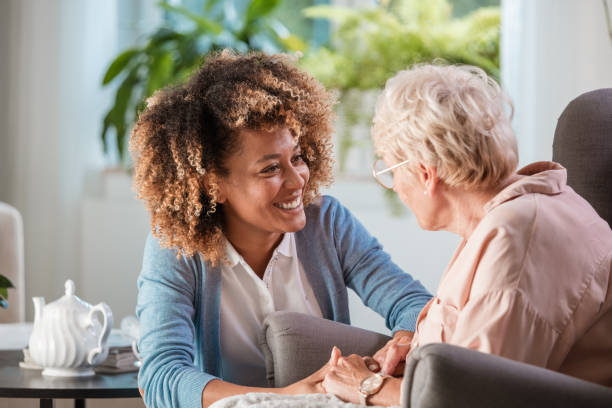 Nursing homes — also known as skilled nursing facilities (SNFs) — provide skilled nursing care, personal care, social services, social activities, and physical, occupational, and speech therapy to people who are either newly discharged from an acute care hospital (short-stay) or whose physical or mental conditions prevent them from caring for themselves independently (long-stay). Some nursing homes also offer care for specific conditions such as memory impairment or dementia, or more intensive care for serious chronic conditions including ventilator support for patients who cannot breathe on their own. 
Short-term nursing home care is generally for those who are discharged from a hospital stay but cannot take care of their medical or personal care needs independently while they heal. While in the nursing home, they receive nursing care that includes medication administration, nursing treatments, and personal assistance with bathing, eating, toileting, and walking. Many of these patients receive physical, occupational, and/or speech therapy to help them to regain strength and mobility and restore independence. Most of these individuals will eventually go home (the average short-term stay is about 2 weeks, but not longer than 100 days). Some of these short-stay patients may not get better or they may deteriorate due to medical complications; these individuals will need to continue in the nursing home for long-term care. 
Long term nursing home care is designed as a permanent living setting for people who have physical limitations (perhaps due to a stroke) and/or have permanent cognitive impairment (such as Alzheimer's) that requires round-the-clock assistance and some level of skilled nursing care. In most cases, long-stay residents will remain in the nursing home for the remainder of their life. However, some will slowly regain enough function that they can go home with family/caregiver support, or they may go home with a family member for hospice care at the end of life. 
Medicare and private insurance typically cover skilled nursing care for a few months, but not for long-term stays. Most people get help covering the costs of long term stays from Medi-Cal, long term care insurance, or other financial aid sources such as foundations. 
Cal Long Term Care Compare is designed to assist consumers and family members with evaluating nursing homes for the best placement. It provides information about various criteria for patients and families to consider such as the facility location and size, types of residents, nurse staffing levels, and quality of care. The quality of care measures and ratings can be particularly helpful when comparing and selecting a nursing home. Most measures show the facility score in comparison to the average score of all California nursing homes. Viewers will be able to select a few nursing homes to compare side-by-side to help find the one that best fits their needs. 
Taking the time to compare the quality of care at a few facilities, as well as consider the resident's personal goals and preferences, will help find the best nursing home placement.